By Lauren Freedman '20
With the 2020 United States Presidential Election less than two years away, several candidates have already thrown themselves in the running for the position – while several more mull the possibility.
While it is likely that President Donald Trump will be the only candidate from the Republican party (since his reelection campaign filed with the Federal Elections Commission the day of his inauguration in 2017), several prominent Democrats have announced their campaigns to run against the president. Here are brief summaries of the careers and ideologies of the 2020 candidates who have already announced their campaigns:
Cory Booker
Cory Booker is a U.S. senator from New Jersey and the former mayor of Newark, New Jersey. He is running for the Democratic nomination. During his first term as mayor, Booker saw to the doubling of affordable housing in Newark. He is considered a social liberal and supports issues such as women's rights, affirmative action, and single payer healthcare (a form of universal healthcare).
Pete Buttigieg
Pete Buttigieg is the mayor of South Bend, Indiana. He is running for the Democratic nomination. He is a veteran of the war in Afghanistan and the first openly gay Democratic presidential candidate. One key program of his administration has been the Vacant and Abandoned Properties initiative, a program to repair or demolish various properties throughout the city.
Julian Castro
Julian Castro served as United States Secretary of Housing and Urban Development under President Barack Obama and is the former mayor of San Antonio, Texas. He is running for the Democratic nomination. In his campaign announcement, Castro emphasized his support for single-payer health care for all, universal pre-kindergarten programs, and immigration reform to create a pathway to citizenship for undocumented immigrants.
John Delaney
John Delaney is a former congressman from Maryland and former businessman. He is running for the Democratic nomination. In Congress, Delany proposed legislation to end the partisan practice of gerrymandering. Delaney was ranked as the 53rd most bipartisan member of the U.S. House of Representatives in the Bipartisan Index created by The Lugar Center and the McCourt School of Public Policy.
Tulsi Gabbard
Tulsi Gabbard is a congresswoman from Hawaii and an Army National Guard veteran. She is running for the Democratic nomination. She is the first Samoan-American member and the first Hindu member of the United States Congress. She supports abortion rights, Medicare for all, and opposes American military intervention overseas. She has drawn disapproval for meeting with Syria's president, Bashar al-Assad, whose regime has been accused of using weapons against civilians. She has apologized for past homophobic statements and her previous work for an anti-gay advocacy group.
Kirsten Gillibrand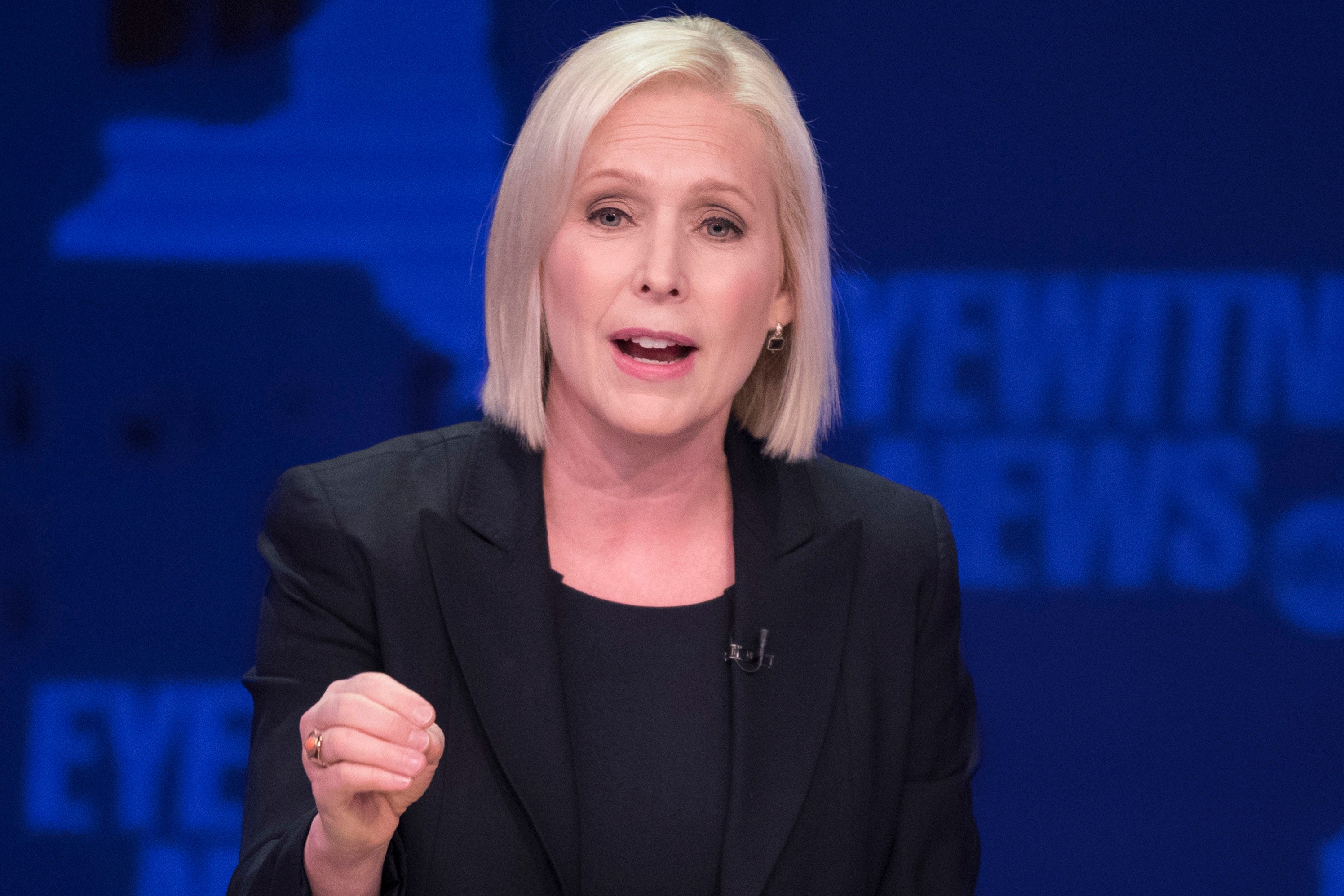 Kirsten Gillibrand is a U.S. senator from New York and a former congresswoman. She is running for the Democratic nomination. She has long been a significant supporter of women's rights. As a congresswoman Gillibrand supported several conservative platforms, but in recent years she has since shifted her support toward such liberal platforms as paid family leave. She rejects campaign funds from corporate Political Action Committees.
Kamala Harris
Kamala Harris is a U.S. senator from California; former attorney general of California; and the former San Francisco district attorney. She is running for the Democratic nomination. Harris supports Medicare-for-all, sanctuary cities, and raising taxes on corporations and the wealthiest 1 percent. While Harris was the San Francisco district attorney, the felony conviction rate rose from 52 percent in 2003 to 67 percent in 2006, the highest in a decade. Harris also created a special Hate Crimes Unit, focusing on hate crimes against LGBT children and teens in schools. Harris has been an outspoken critic of the Trump administration during her tenure as a senator, and she caught the nation's attention with her questioning of Supreme Court nominee Brett Kavanaugh.
Elizabeth Warren
Elizabeth Warren is a U.S. senator from Massachusetts and a former Harvard professor. She is running for the Democratic nomination. As senator, Warren has supported progressive platforms such as income equality and has long championed cracking down on corporate and political corruption. Warren gained national attention when she was prohibited from reading a letter written by Coretta Scott King in U.S. Senate chambers because the act was seen as "impugning the character of another senator" – then-Senator Jeff Sessions. Warren was the keynote speaker at the 2016 Democratic National Convention.